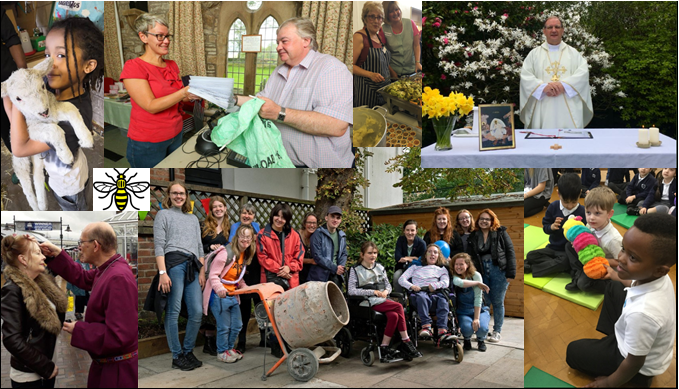 Our proposals for Mission Communities will enable us to work together in growing, nurturing and serving our communities across the Diocese of Manchester.
We share our inspiring vision for the future of local ministry in Transforming Manchester Diocese: Briefing document on the proposals for Mission Communities. The document has been shaped by the Bishop's Leadership Team over the summer of 2020 and was presented to Bishop's Council on 22 September.
The aims of this document are to communicate our vision for Mission Communities, and to agree the key principles we should apply in their creation. We want these proposals to be widely discussed and debated over the coming months so that a broad spectrum of people from across the diocese are involved in shaping our vision, and supported in engaging enthusiastically with what this will mean for their church communities. Our aim is to have an agreed way forward by June 2021, when our new deanery arrangements will come into effect.
We would like to hear from you
Please read the proposals for Mission Communities as outlined in the briefing document. We would like to know:
What inspires you about the proposed vision for Mission Communities?
If you have any concerns about the key principles for Mission Communities?
What are the opportunities and challenges of the proposed approach for your church community?
In order for us to gather as much feedback as we can from parishioners, we will be working closely with Area Deans and Lay Chairs to develop an effective way for your voices to be heard. This discussion will begin with the Area Deans meeting on Monday 16 November and the Lay Chairs meeting on 19 November, and will be rolled out in the coming months.
In the meantime, we encourage you to read this document thoroughly and begin your own discussions about what this could mean for your church community. If you wish to respond more immediately, you are welcome to email us at differentworld@manchester.anglican.org. All feedback will be reviewed and collated for Bishop's Council in May 2021.