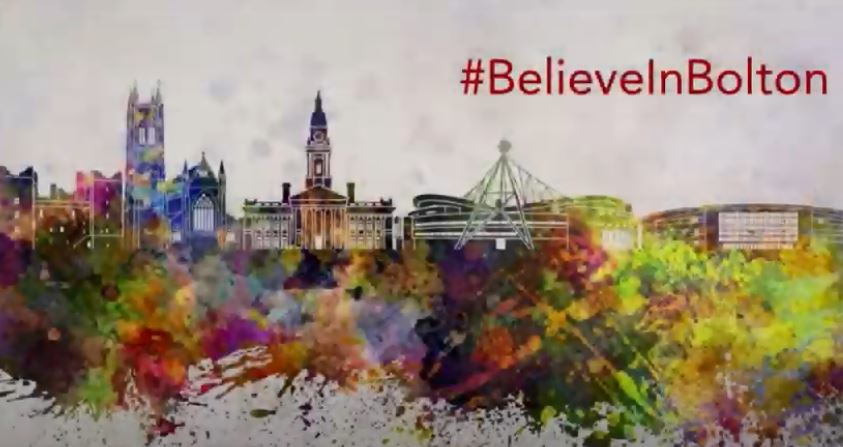 A mission planned for months took an unexpected turn: going virtual and attracting 2000 people.
Revd Oli Preston from St Peter's Halliwell writes:
When the Covid19 crisis hit in March it looked like the end of our plans for a 'Believe in Bolton' mission weekend in May. After months of planning for a full weekend of events and with Archbishop John Sentamu due to join us, it was very frustrating to have to cancel everything. We decided to try and press on with one big event on the Saturday evening, making use of our new learning with video conferencing and live-streaming.
We invited people from churches across the town to record their responses to two questions: Why do you believe in Bolton? And: What would God say to Bolton? We posted videos on Facebook and were exciting to begin connecting with people who might normally not engage with church. We encouraged regular church members to think about who they could invite to watch the event, and how this could be a conversation starter even if we weren't able to be in the same physical space. It was challenging, but great to see lots of local Christians inspired and equipped to share their faith with friends and family online as they shared the links and videos for the event.
The Believe in Bolton evening had an intimate feel to it - not a big stage and crowd, but a conversation in the living room. Our speakers brought very different focuses and style, and were both excellent - Warren Furman (AKA Gladiator 'Ace') and Bishop Jill Duff. We had music from local Christian bands, including introductions and testimony.
At a time when we are having to be physically distant, it was fantastic to be connected with one another by using the Chat and Question and Answer to follow up on the live streams.
Between the Zoom meeting, live-streaming to Facebook and YouTube and views of the video afterwards we engaged with more than 2000 people.
We are also finding that the content has an ongoing life online, where we are continuing to have more views and engagements. We have reflected together afterwards that we might not have had that many people attend a physical gathering, and that the nature of an online event made it much easier for people who were just exploring to watch without feeling pressured. We tried to offer ways for people to respond and connect, and one of the churches involved reported that two people joined their online Alpha course as a result of the event.
This certainly won't be an end to face-to-face evangelism, but it has made us think much more about how social media can be part of our ministry and mission moving forward.
You can watch the Believe in Bolton evening on YouTube as a series of videos. Please feel free to comment and share.