Across England, more than 4,000 Church of England parishes are estimated to have stepped up their support to local communities in the face of rising levels of poverty, loneliness and isolation during the Covid-19 pandemic, according to new research published today by the Church of England and Church Urban Fund.

In Manchester Diocese, church volunteers have carried out a range of tasks from food deliveries to shopping, practical support for isolated parishioners and collection of prescriptions since the first lockdown. Gardening projects, support for local businesses, virtual Sunday schools, and helping people to get online were among a series of innovative services provided by churches for people suffering from the social and economic effects of the pandemic.
Some of the local projects that churches undertook in our diocese, were celebrated by the Bishop of Manchester when he made his annual Church for a Different World awards. The awards celebrated how churches had adapted to meet the spiritual, pastoral and practical needs of the communities they serve during the pandemic.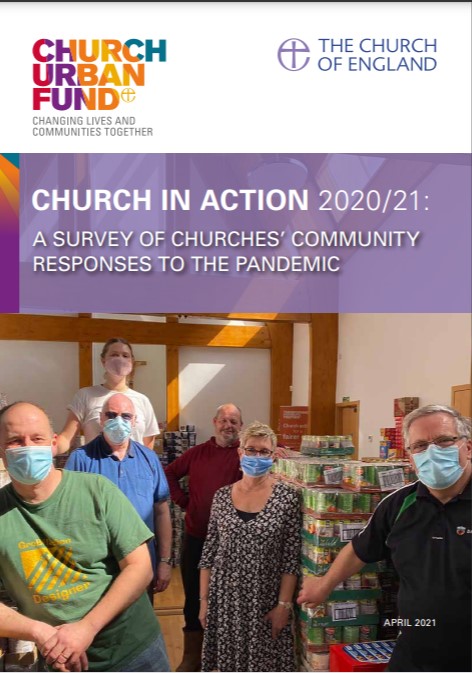 The research found that despite restrictions affecting many projects, such as lunch clubs and parent toddler groups, nearly a quarter of churches started a completely new activity during the pandemic, and more than half adapted two or more of their existing community activities in order to continue meeting the needs of their local community.
Food provision and pastoral support were by far the biggest area of support provided by churches, with nearly 80% of churches involved in running or supporting a food bank or other similar services such as food clubs and hot meals. Many opened food banks for the first time in response to the economic fallout of the pandemic.

More than a quarter of churches, or 28%, reported that they were working more closely with local authorities on projects such as emergency food provision.

Church leaders told the survey that social problems such as isolation, loneliness and mental health difficulties, food poverty, unemployment and debt have become much more widespread in their communities as a result of the pandemic, particularly in the most deprived areas.

Churches reported that church buildings, because of their size and ability to be well ventilated, had been used by local communities for activities including medical purposes such as ante natal classes and socially prescribed exercise. In many cases Church buildings became symbols of hope, the report notes, and were adorned with flags, posters and artwork as a "form of visual outreach and encouragement" to local communities.