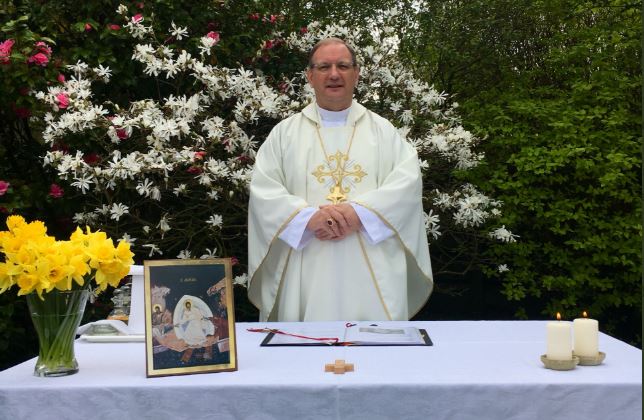 With church buildings closed across the country to help prevent the spread of coronavirus that as so far claimed more than 10,000 lives in the UK, Easter was never going to feel like normal this year.
Scores of churches in Manchester Diocese have risen to the challenge of engaging with their communities during an Easter on lockdown. A time when people can only leave their home to get food, for health reasons or to work in jobs that are essential. Church communities have found novel ways to worship, pray together online, provide pastoral support and care for the sick and vulnerable, and keep the Easter flame of faith alive.
One parish priest spoke of his surprise at recording thousands of views on the new church Facebook page and YouTube channel, and doing his first broadcast prayers, sermons and services. At the same time he was keen not to forget people without computers, and mailed out 50 copies of a pastoral letter to people not on email via the Post Office.
Good Friday meditation
Archdeacon Jean Burgess presented a moving Good Friday Tenebrae service recorded in her home. She said, "Through the power of God's Holy Spirit we can worship together spiritually although separated."
Youth Stations of the Cross
Our Youth Officer, Susie Mapledoram, encouraged young people to create and share their own Stations of the Cross to reflect on the events of Good Friday. You can watch the series on our YouTube channel.
Holy Saturday
Ordinand Amy Sheridan shared her family's Easter Garden for Holy Saturday.
The joy of Easter Day was celebrated from people's homes and could be shared in an online broadcast by the Archbishop of Canterbury from his kitchen table at Lambeth palace, streamed on the Church of England Facebook page.
The Parish of Holcombe and Hawkshaw shared a wonderful Sunrise Service from Church Together in Ramsbottom that had been put together from people's home and gardens, observing the government's social distancing guidelines. It gave the impression of being on a walk to Holcombe Hill to watch the sunrise on Easter morning, followed by worship and prayer.