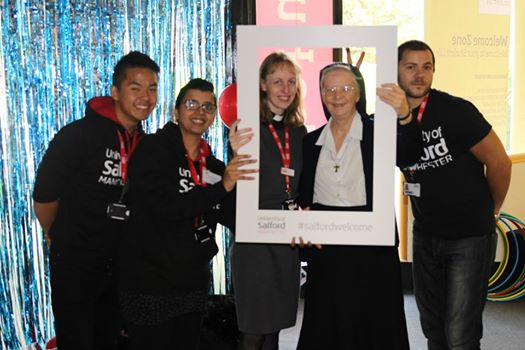 There are chaplains in our universities of Bolton, Manchester and Salford, who assist the 100,000 students and 20,000 staff members. We are helped enormously in our work by colleagues from different Christian denominations, honorary Anglican chaplains and a team of advisers from the other great faiths of the world.
The chaplaincies value diversity and promote respect for different beliefs. They are available to all, both students and staff, regardless of race, belief, religion, gender, disability, marital status, social class, age or sexual preference. The chaplains are there to ensure an Anglican Christian presence across the campuses. Their brief is to:
Be independent of the institutions

Take peoples beliefs seriously, whatever they are and help people on their spiritual journey

Be a source of confidential support and offer a safe space to talk

Lead Christian worship

Organise opportunities for learning and sharing about the Christian faith

Help build community on the campus

Encourage vocations to Christian ministry

Refer people to more specialised support when appropriate.
Chaplains support student faith groups like the Student Christian Movement (www.movement.org.uk) and the Christian Union (www.uccf.org.uk) and try to contribute in creative ways to enriching students time at university through programmes and activities.
Chaplains also endeavour to promote opportunities for interfaith dialogue and build community cohesion on the campuses. This is an enormously important facet of their work and one that complements the nature and role of the universities as places where knowledge and understanding are explored for the betterment of humanity.
Since the task of chaplaincy to such large numbers of people is so great, chaplains need the support of local churches to ensure students have access to pastoral support and Christian worship. Whether students live in halls of residence or in private accommodation, local churches have a vital role to play.
If your church wants to know how to reach out to the nearby student population, please dont hesitate to contact your local chaplain. We cant do this work alone!
The Revd Gill Smart
The Revd Ben Edson, Director of St Peter's House Chaplaincy
Salford University
The Revd Helen Tomlinson