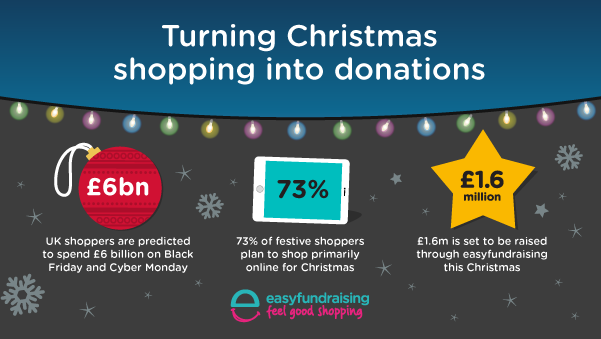 Last Christmas, more than 50,000 good causes benefited from donations through easyfundraising. A massive £1.6m is set to be raised by shoppers using easyfundraising this Christmas – here's why your church should get on board.
FREE FUNDS WHEN YOUR CONGREGATION SHOPS ONLINE
easyfundraising enables your church to benefit from vital funds when your congregation shops online.
When they use the easyfundraising website or app to shop online, the retailer they buy from sends your church a free donation based on how much they've spent, at no cost to either the shopper or your church.
There are over 4,200 retailers who will donate, including Amazon, eBay, John Lewis, Argos, Marks & Spencers and Waitrose, so no matter what they are buying online, members of your congregation can raise a donation for your church at the same time.
With 73%* of festive shoppers saying they will do most of their shopping online this Christmas and £6 billion forecast to be spent over the Black Friday weekend (27-30 November 2020), easyfundraising is such a great way for your community to give your church a vital income boost when they do their Christmas shopping.
GETTING STARTED IN THREE STEPS
Sign-up: register your church with easyfundraising for free
Shop: ask your congregation to use easyfundraising every time they shop online.
Raise: whenever they buy something, the retailer sends your church a free donation.
HOW TO SET UP AN EASYFUNDRAISING ACCOUNT
The video below is a step-by-step guide to setting up an easyfundraising account from our Digital Giving Officer, Paul Bailey. Contact Paul for more information if you need it.
For further assistance, please contact Paul Bailey, Digital Giving Offier