The annual Church for a Different World awards looked rather different this year. Churches were asked to let us know how they had responded to the pandemic during lockdown. How had they changed and adapted to meet the spiritual, pastoral and practical needs of the community they serve?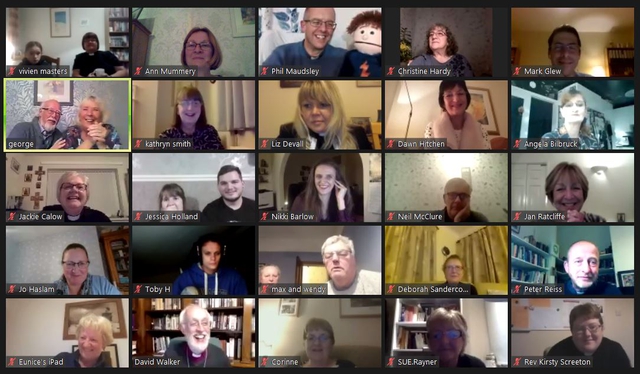 The Bishop of Manchester, Dr David Walker, was delighted to make ten awards and celebrate with the participants via a Zoom party! Churches shared how they had taken worship online, one even involving a troop of puppets to help! Others had gone the extra mile to provide pastoral support by phone or by dropping off Sunday School packs for children to enjoy. A number had set up food collection schemes and worked with local partners to deliver hundreds of food parcels to needy families.
There was a virtual prayer pilgrimage that raised £4500 and a summer market that supported local businesses which had struggled to reach customers in the usual way.
The ten projects that received a Church for a Different World award are:
Breightmet Chance By Breightmet, St James
Providing hot meals to families - delivered in fancy dress.
Getting the Word Out! By Haughton Green,
St Mary
Church services over Zoom and new discipleship groups established. Free copies of gospels left for people to pick up during their daily exercise.
Sunday School at Home By Heywood, St Luke
Sunday School packs delivered to entertain children. Helping to sustain a sense of community for young people who were missing school and friends.
Connecting with
the Community By Horwich and Rivington
Lots of creative online worship developed by a team of churches plus Coffee and Chat over Zoom for people who felt isolated. Pastoral care was much appreciated. The church will continue with online after lockdown.
Hurst Virtual Pilgrimage By Hurst, St John the Evangelist
A virtual pilgrimage that engaged the community in prayer for the community. It raised over £4500 for church funds and a new food pantry.
STYLE Virtual
Summer Market By Moorside, St Thomas
The church supported local businesses by providing a popular online market. This raised the profile of the church and provided pastoral opportunities.
Dive In Online New Moston, St Chad
A Facebook event with puppets that began for children and now has a wider following of hundreds. Fun and accessible outreach that supports mental health and wellbeing.
Surviving (and thriving?) Lockdown By Prestwich, St Margaret
and St George
Meeting the spiritual, emotional and practical needs of the community by involving everyone in the congregation in various ways.
Middleton in Action
Together By Rhodes, Tonge, Alkrington
Inspired by the sad death of a church member from Covid, MIAT provides food parcels, prescription collection, shopping and phone calls to support local people. It has been well supported by the whole community.
Faith, Hope and Love By Turton Moorland Team
A big team effort by six churches to work together to provide online worship, shared daily prayers and set up a telephone buddy system. Churches embraced the opportunities to go online and use social media effectively.