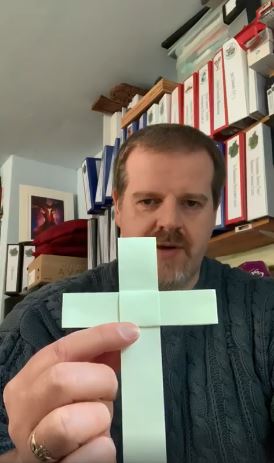 Churches across the Diocese of Manchester are responding in many wonderful ways to the Coronavirus crisis; making regular phone calls to lonely and vulnerable members of the congregation, supporting foodbanks and other vital services, and finding new ways to help as many people as possible to access worship and prayer in their own homes. We are truly becoming a Church for a Different World.
There are many options for churches who wish to provide their congregation with access to online worship.
We have a Digital Support Group on Facebook where you can ask questions and share ideas and tips with one another.
Live-streaming
Live streaming is available to churches on a number of different social media platforms, including Facebook, Youtube and Instagram. Find out HOW to set up a live stream with this Beginners' Guide.
Before you take the plunge and begin live streaming as your church, however, you might want to ask the question: does this need to be live? Live video offers the unique opportunity for your congregation to come together at a particular time, to chat, through the videos comments and interact with a service as it is happening. It may not always be the best option though, live streaming can be tricky; with poor WiFi or 4g signal the first thing to drop out of your stream will be the sound, followed by the video becoming increasingly patchy.
When to live stream:
A sermon with an opportunity for discussion afterwards
A thought for the day from the vicar or a member of the church
A daily prayer
An update or a good news story
Notices - read out the weeks notices and ask everyone to share their own news in the comment.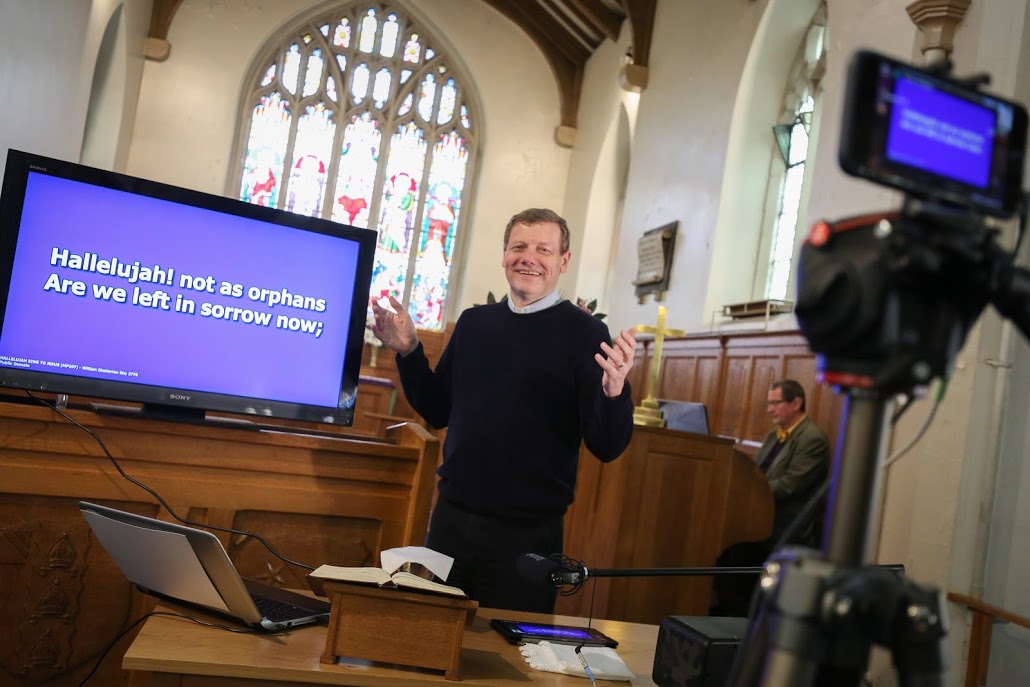 Pre-recorded video
The safer alternative to live streaming - particularly for churches that are new to making videos in general - is to pre-record your worship/prayers/reflection and to upload your video in your own time. This offers a more inclusive opportunity to add subtitles to your video, making it more accessible for many more viewers. It also means you can make basic edits to your video - to trim out the long beginning section where you are recording but nothing is happening on screen - crucially with online video, we know that people need to be interested within 3 seconds to decide whether they will keep watching. If all they see is an empty chair, while someone fiddles with the angle the camera is propped up at - its unlikely that they will stick with you!
Another feature on Facebook and Youtube is the option to Premiere your video. If you choose this option the video will produce a post to let your followers know when the video will be premiering and then it will be published as live and people can follow along with your pre-recorded service in real time.
Working together
The most important thing for churches who have never put any video online before is not to rush into doing so now - or to feel under pressure. While this is a good time to experiment and see what your phone is capable of, be aware that too much poor quality content from your churchs account could lead to you losing followers, rather than gaining and nourishing them.
There is so much content out there already; we are encouraging churches to buddy up with another local church who are doing live and pre-recorded video well, and ask to share their worship and prayer videos until they are ready to share any video themselves. Perhaps this will leading to a fruitful sharing of resources between churches in the future!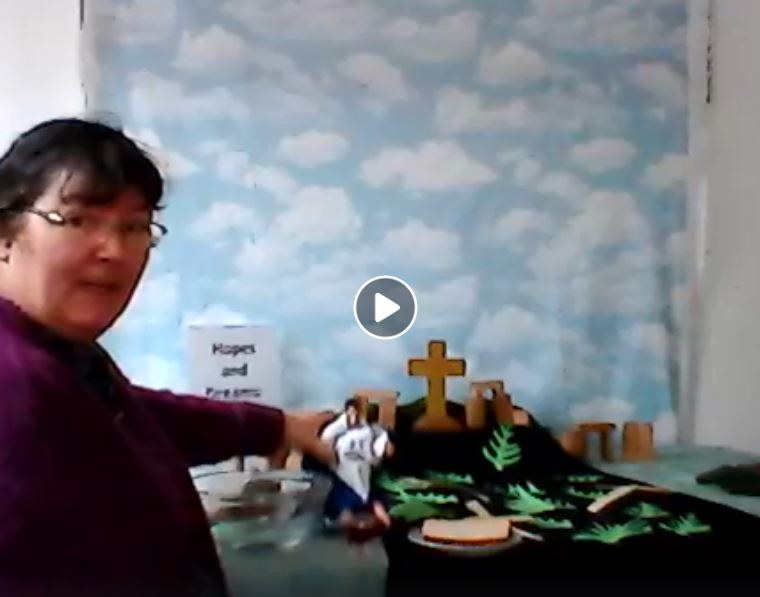 Where to start and what to share
For churches who are just getting started with making videos, perhaps start with a simple video of someone reading out this weeks prayers or readings. Perhaps a message from the vicar, to say hello and to explain how the church is continuing to function. Remember, online worship doesnt just have to fall to the ordained clergy - the church needs everyones gifts to flourish, particularly at this time.
Some examples from across the Diocese of Manchester
How to make a Palm cross - Benefice of Littleborough
Morning prayer from Manchester Cathedral
Church of England in Saddleworth- clergy team each delivering different daily services
Live childrens group with St Peter and St Marks Levenshulme
Livestreamed service - Christ Church Pennington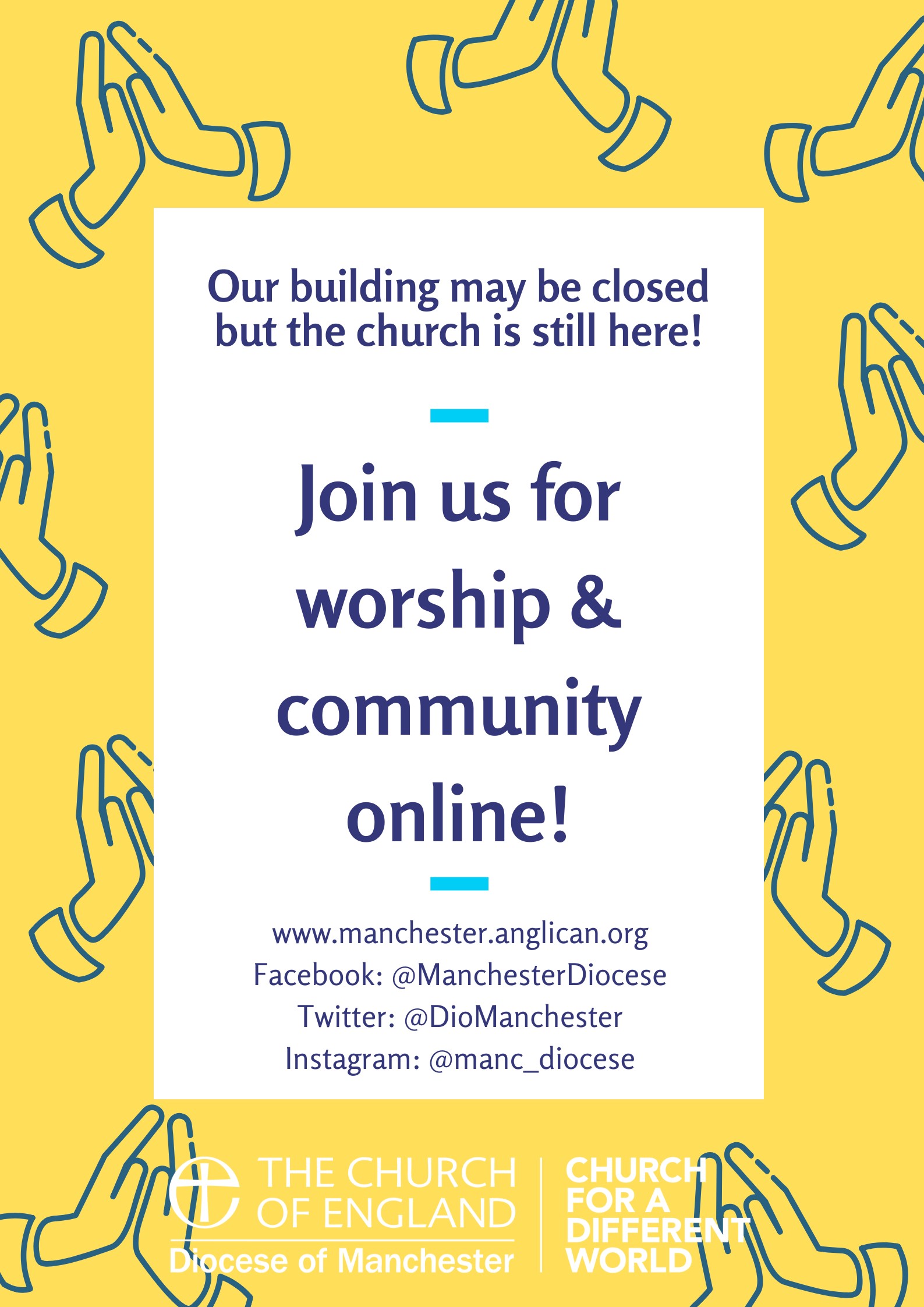 If you can offer online worship why not personalise this poster to show how people can access worship and support while the church building is closed.
Edit the poster using Canva. You will need to set up an account (free of charge) if you don't already have one.