The Diocese of Manchester has created a survey which is available for churches to use to help them better understand the digital landscape of their congregations, and balance online and in-person worship as coronavirus restrictions ease and life returns to some kind of normality.
One of the most remarkable things about lockdown was the speed with which churches took their worship offering online. For the first time they used technology to provide live or pre-recorded services, and many churches found they attracted new members who joined them online.
A survey just published by Ecclesiastical Insurance found that 90% of respondents used at least one new method of communicating with their congregations during the pandemic, including Zoom and Facebook.
As churches look forward to operating with fewer restrictions and celebrate the opportunity for indoor gatherings, we recognise the importance of understanding how digital platforms can be used to enable and empower churches to grow and serve over the years to come.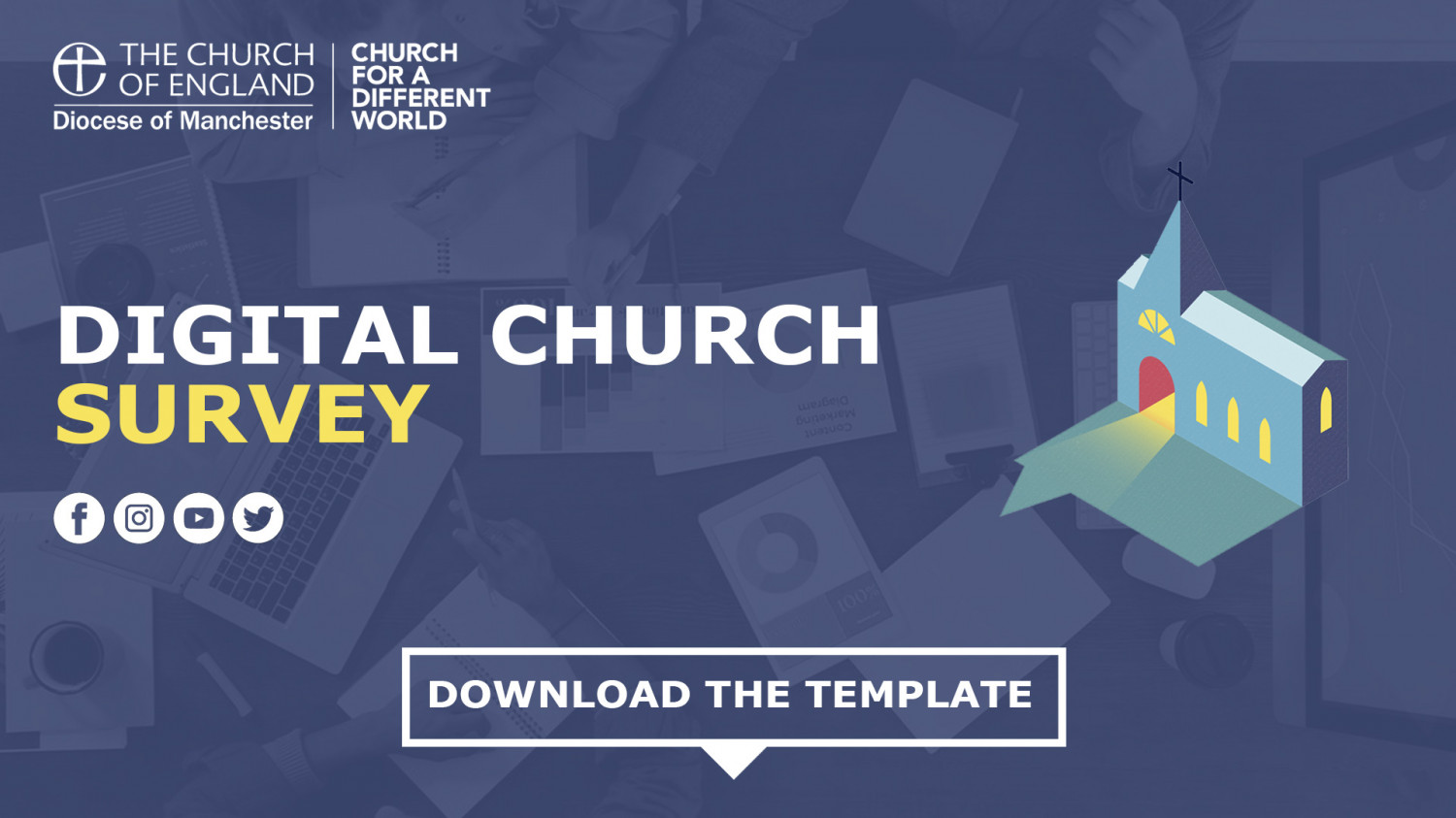 The survey will enable churches assess what kind of online provision people like and want to keep, and help them plan for a future that includes nurturing their new, online congregations.
James Newman, Digital Communications Officer for the Diocese of Manchester, created the survey. He said:
"We have designed a very simple template survey that you can use to question your congregation to help understand their feelings towards the digital landscape of your church. The survey will only take 2-3 mins to complete and is aimed at understanding how members of your church have responded to the use of digital and social media over the last 12 months. We hope feedback from the survey can be used to develop future growth strategies."
The Revd Simon Cook, Area Dean for Bolton, said "This is a fantastic chance to find out how established congregations and those who have joined us over the lockdown period feel about the technologies and tools we've learnt to use during the pandemic – and how we might continue to use them wisely under God for growing, nurturing and serving people alongside our in-person activities.
"Christians have always embraced the possibilities of new technology for worship and for sharing the good news of Jesus Christ, from the printing press and the postal service to microphones and hearing loops. I hope churches will embrace this opportunity to listen and hear the views of as many people as possible as they plan and prepare for a new season of mission and ministry – digitally as well as in-person."
How to use the survey
The survey is available in two formats, each of which can be modified to suit an individual church's needs:
- An Online Survey, which you can share via a link to your church members. All responses are stored online and displayed with graphs and illustrations allowing for easy evaluation. The responses can also be saved and exported as a document – particularly useful for presenting the data to others.
- A Printable Survey, which offers the exact same survey template with the same questions, as a word document.
The access the survey, please visit https://bit.ly/3wSkBtZ
The survey is accompanied by an instruction sheet to guide users through the survey distribution process and there is also a short video at https://youtu.be/HbKhRB5SgLA.
Help and support
If you need any further help accessing, adapting or using the survey template, please get in touch with James Newman, Digital Communications Officer, 07878 820695, jamesnewman@manchester.anglican.org , who will be happy to assist.
The data submitted via the online survey is completely anonymous and users do not need an account to complete the survey at any stage.