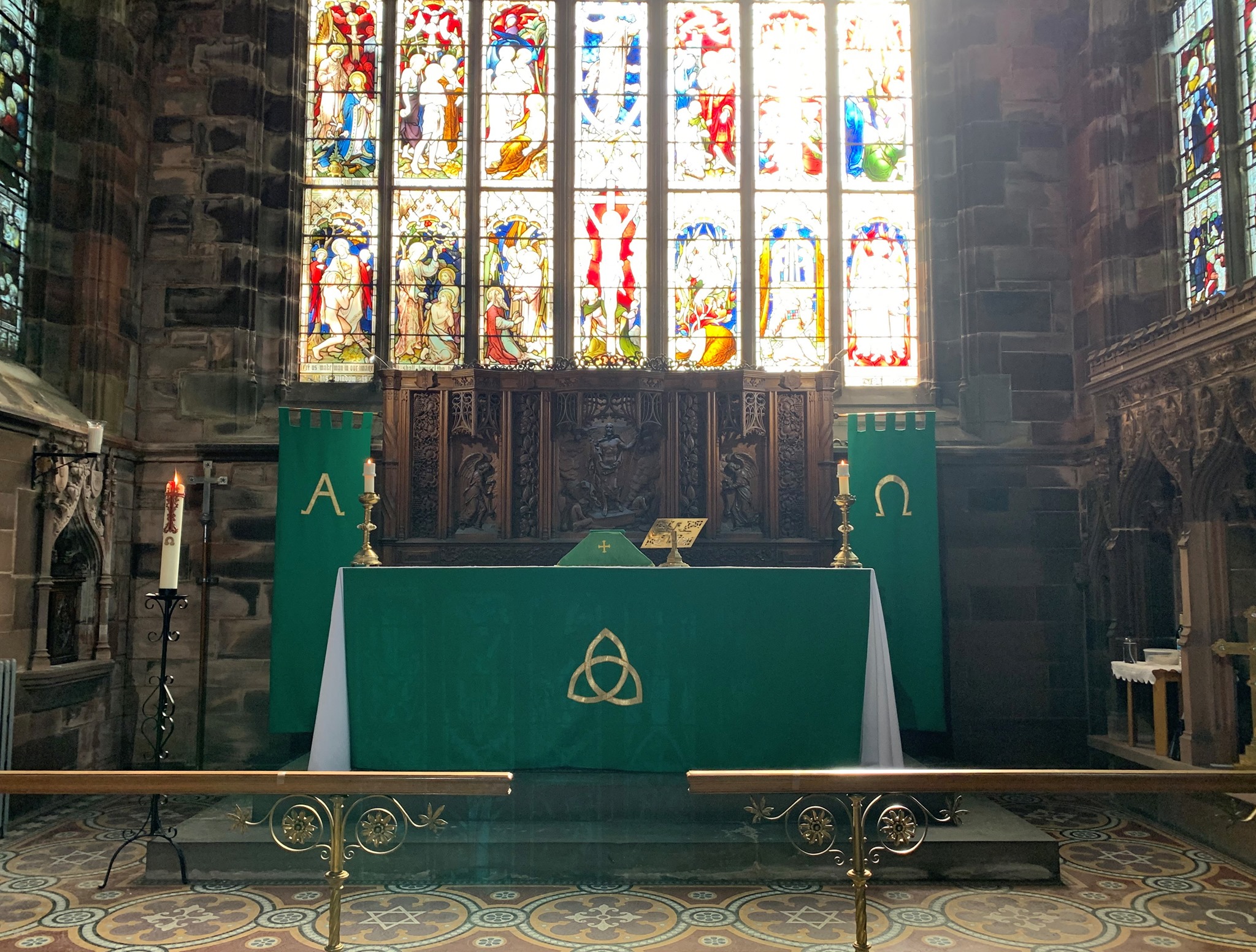 Since the government announced that public worship in churches could restart after more than three months of lockdown, churches have been taking innovative steps to help keep their congregations as safe as possible. We hear from some of the churches that have taken the step to open up, including Holy Trinity Littleborough, All Saints Kirklees Valley and St Chrysostom's Victoria Park.
To keep up to date with which churches are open for public worship and those that offer online services, please visit A Church Near You.
Fr Ian Bullock said "The services went remarkably well. We had 23 in the congregation at the 9.30am service and 12 people at the 11.30am service. In between the church was locked and the door handles, seating and tongs used for administering Holy Communion thoroughly cleaned.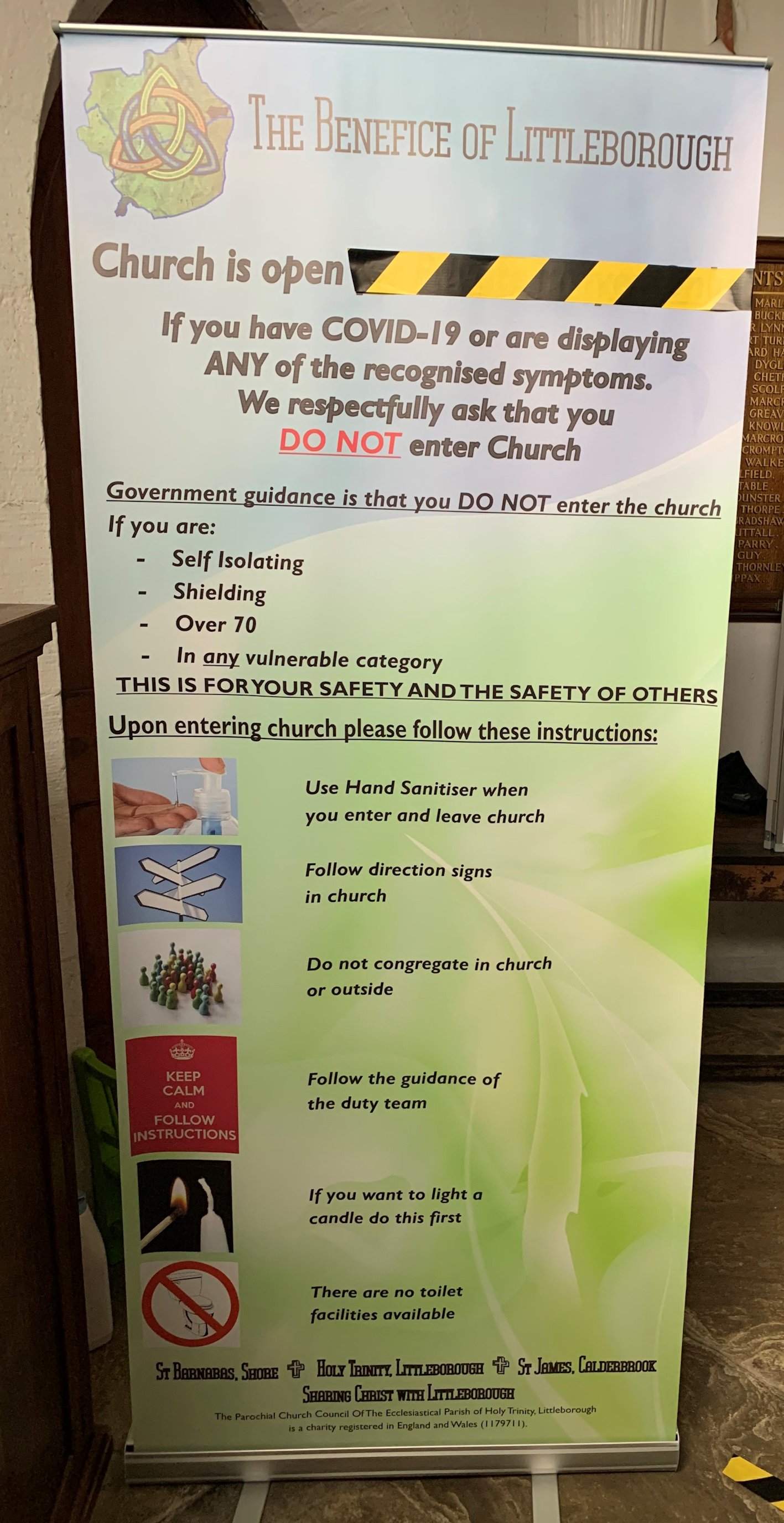 "We had been slowing moving towards opening up, having opened for private prayer and funerals when we were allowed to in mid-June. Adding the extra requirements into the Risk Assessment to get ready for public worship wasn't too much more work. Measures we put in place included numbering the pews and identifying which to use to maintain social distancing, and marking out routes with tape. Through the pre-booking system we created an attendance list which was used to allocate seating and will be kept securely for three weeks for Trace and Test purposes."
Although it was a lot of work to prepare for worship itself, with walkthrough to ensure everything had been considered and providing additional signage such as 2m floor tiles for communion, Fr Ian found that new volunteers came forward to assist with welcoming, cleaning and stewarding. He said, "The biggest task was doing the risk assessment and writing procedures. We have a big check list of tasks to adhere to each Sunday morning to ensure that everyone is kept as safe as possible"
How did it feel to worship again in church?
Members of our sister parishes have given feedback. Congregant of St James, Calderbrook, Linda Gibson, said, "It was lovely to be back in church for a service this morning. It was emotional and so moving to be part of the church family again. My prayers are with those not able or not ready to return to church just yet. Take care."
St Barnabas, Shore Church member Sheila Wildman said, "It was great to be back yesterday and to see people we have not seen for a while. The church felt safe with everything that has been put into place."
Fr Ian said "I felt quite emotional to be back in the church building. Although some of us were back in church, I'm looking forward to the day when the whole church family can be together again."
Maintaining online worship
During the lockdown, many churches have taken to livestreaming or pre-recording worship. Littleborough is continuing with this, as over 60% of the congregation is still not back at church. The church offers a livestreamed midweek Mass on Facebook and pre-records the Sunday service in church, which is then premiered on YouTube on Sunday mornings for people unable to attend church. The online worship from Littleborough is available via its Virtual Benefice webpage.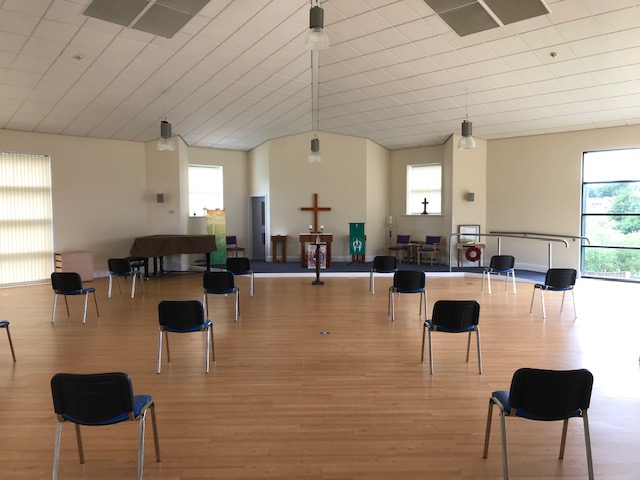 "The sun was shining, the doors open wide and the swifts were screaming overhead. It might have been any summer Sunday in Ordinary Time but it wasnt. As a parish we took the decision at the start of lockdown that Communion is something we share. There is no tradition of any one person receiving on behalf of the parish and so from Lent, through Eastertide, Pentecost and into Trinity, we have fasted from the Eucharist as a parish, clergy and lay together.
"Reopening church has been about breaking our fast and doing so in a liturgical way. From undertaking the risk assessments, to the distancing of moveable chairs in church, to marking out the spots for people to stand on, fixing stickers to direct the flow of people around church, the procurement of PPE and training of our stewards, every step towards reopening has been a prayerful preparation towards gathering at the table of the Lord.
"We held two services at one church, with cleaning between, and one at our other, with a recorded service on YouTube shared for those still unable to come or unsure about returning yet, as we have been doing through lockdown and will continue to do for the foreseeable future. Our congregations were small, and yet the services were joyful, peaceful and contemplative. Above all they were oddly comfortable for all the challenges of extra-handwashing and unexpected silences where the habitual words and actions are not permitted. The distribution was the hardest part, along with the subdued responses as per the guidance. Thank goodness for the ventilation shafts we have at All Saints, through which we could hear the swifts outside, almost as if they were singing on our behalf, Glory, glory, glory.
I have to admit that on Sunday morning as I opened the church doors for worshippers to enter in, I felt nervous, the type of nervousness that is felt in the pit of the stomach, and it took me by surprise. I wondered whether it could have been excitement at being back in church for the first time in so long; or it was just because I was worried whether I would get everything right as a welcomer in this new world? Whatever it was about, the feeling was intense; perhaps I was being moved by the Holy Spirit?
"As soon as I opened the doors people began to arrive and whilst I was looking forward to seeing old friends, the first two people to arrive were completely new to me, which was a joy. One man came to Mass that morning because he had a seriously ill child in the hospital. He wanted to be baptised. I showed him to a seat with the promise that I would get a Priest to speak with him. Mother Kate almost immediately walked through the door and of course was happy to speak with him, now I knew the Holy Spirit was at work.

"True to our values of welcome and inclusion; that man was baptised and he received the sacrament during the Mass. On that special day when our fast was broken, this guest in our home was invited to the front of the queue to partake in that most special of all meals and I am not ashamed to admit, I cried! My tears were not of the tears of sentiment, they were visceral, I was moved by the Holy Spirit.
"Christ was present at Mass on Sunday, present in the Blessed Sacrament, present in our visitor who needed our love and hospitality and present in the gentle and affirming presence of all the old friends that did walk through the door. Such is the strength of our community, I truly believe the old saying to be true that those not physically there were there in spirit so all in all it was a very special morning.