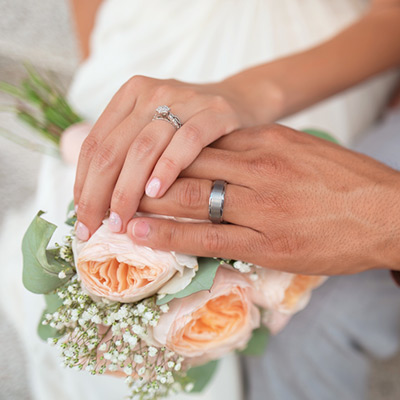 The Church of England is here for you at the special times in life. Please get in touch with us to see how we can help. For details of your parish church and how to make contact, please visit the website A Church Near You and enter your postcode.
Baptims
If you're a parent considering a Christening, you don't have to have been christened yourself, and you don't have to have been a regular churchgoer.
There is a brilliant Christenings website run by the Church of England which tells you everything you might want to know, answering questions from 'how do we choose godparents?' and 'what is the service like?' to 'what presents do we buy?'.
One of the first things you will need to do is be in touch with your local church. It might seem daunting, but whether you speak to an administrator, a friendly parent like you from the church, or the vicar, they will be glad to hear from you.
It's not only children who are baptized. Many people come to faith as adults and are baptized. If you are an adult considering baptism please speak to your local vicar.
Weddings
Getting married in church is meaningful, spiritual, personal, beautiful - just as you would want it to be.
The Your Church Wedding website from the Church of England is full of information and ideas, and answers all the big questions about getting married in church.
Once you know which church youd like to marry in, give the vicar a call to tell them your good news and when youd ideally like to get married. Do it as soon as you can, so the vicar has time to advise you about the legal requirements for marrying at the church, and because there may be competition for dates.
When you first make contact with a church, as well as discussing practical things like dates, it will be the start of a special relationship, particularly with the vicar if you dont already know them. Their personal attention, advice and support will help you create the wedding of your dreams and offer you everything that being connected to a church can mean, not just for your wedding, but also well beyond the big day.
Funerals
The Church of England website has guidance and support to help you with questions you may have about planning a funeral.
Here are some prayers you might find helpful,
At a time of loss, the church is at your service. Whether or not you, or the one who has died, have attended a church, we are pleased to offer our care at this difficult time in your life.
Your local vicar is able to give support, and would officiate at the funeral, should you wish. We believe that it is important to take time to hear the story of your loved ones life. After the service, we offer a listening ear, not only in these early days, but in future months as you come to terms with your bereavement.
We believe that everyone is uniquely special in Gods eyes, and hope to reflect this in our service to you.
How do I contact my local church?
Your local church will welcome your making contact. To find details, enter your postcode at A Church Near You. This will show you the name and contact details for your local church and indicate if your church is within the Diocese of Manchester or a neighbouring diocese. Alternatively, email funerals@manchester.anglican.org and we shall provide information for churches within the Diocese of Manchester.