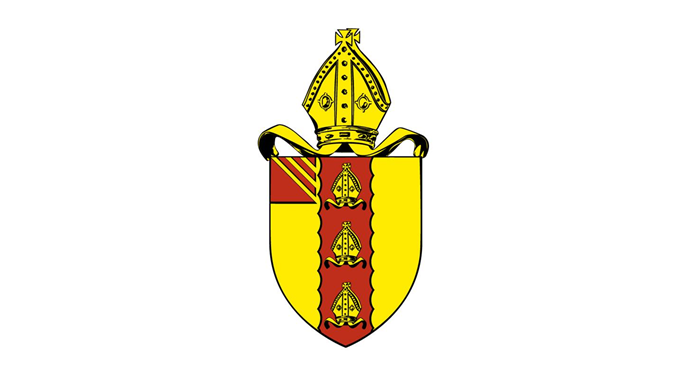 Please pray for all those to be ordained this year and especially for these candidates who will serve in our Diocese. Pray for them in these final weeks of preparation and for a rich outpouring of God's grace for them and for the whole Church.
Please pray also for their families, friends, for all those who have supported and encouraged them on their journey and for those with whom they will serve.
Finally, I ask you to pray to the Lord of the harvest to send labourers into his harvest, that God will raise up vocations among us and that many will respond with generosity and obedience.
To be ordained Deacon by the Bishop of Manchester
At Manchester Cathedral on Sunday 4 July 2021 at 10:30am
Andrew (Andy) BIRD
Trinity College, Bristol to Chorlton-cum-Hardy, St Werburgh with the Revd James Neal
Benjamin (Ben) Andrew BRADY
Ridley Hall to the benefices of Deane and Bolton le Moors, St Bede with the Revd Vinny Whitworth
Matthew Jon BRINICOMBE
Trinity College, Bristol to Salford, St Philip with St Stephen with the Revd Gareth Robinson
Catherine (Cath) Louise ECCLES
St Mellitus College North West to the benefice of Astley, Tyldesley and Mosley Common with the Revd Martin Cox
Samuel (Sam) ECCLESTON
St Mellitus College North West to Bury, St Mary the Virgin and Bury, St Paul with the Revd Julian Heaton
Grace Elizabeth HART
Cranmer Hall to Bolton le Moors, St Peter with St Philip with the Revd Canon Dr Chris Bracegirdle
Lee Matthew HIGSON
St Mellitus College North West to the Oldhams Church in the Antioch Network with the Revd Ben Woodfield
Mary Katharine HOUGH
All Saints Centre for Mission & Ministry at Stretford, All Saints with the Revd Luke Maguire
Andrew (Andy) Lee JONES
All Saints Centre for Mission & Ministry to the benefice of Blackrod, Daisy Hill, Westhoughton and Wingates with the Revd Carol Pharaoh
Hannah Kate LANE
St Mellitus College North West to the Turton Moorland Ministry with the Revd Canon Peter Reiss
William Jack MARSH
Oak Hill College to Rusholme, Holy Trinity with the Revd Dr Paul Mathole
Stephanie (Steph) MAWHINNEY
St Mellitus College North West to the benefice of Hillock and Unsworth with the Revd Donna Williams
Leila NIKROO
St Mellitus College North West to Hope, St James and Pendlebury, St John with the Revd Gareth Thomas
Erasmus Duke O'BAKA-TORTO
St Mellitus College North West to Belfield, St Ann and the benefice of Hamer and Healey with the Revd Gill Barnett
Thomas (Tom) PHIPPS
St Mellitus College North West to West Didsbury, Christ Church and Withington, St Christopher with the Revd Anne Pilkington
Paul David PRITCHARD
All Saints Centre for Mission & Ministry to Shaw, Holy Trinity and the benefice of High Crompton and Thornham with the Revd Katy Cunliffe
Darren QUINLAN
All Saints Centre for Mission & Ministry to Rochdale, St Chad, St Mary and St Edmund and the benefice of Deeplish and Newbold with the Revd Anne Gilbert
Jane Margaret REYNOLDS
All Saints Centre for Mission & Ministry to Blackley, St Andrew, Blackley, St Paul and Blackley, St Peter with the Revd Eddie Roberts and also serving as Chaplain with Wrightington, Wigan and Leigh NHS Teaching Hospital FT with the Revd Canon Anne Edwards
Michaila Faith ROBERTS
Cranmer Hall to the benefice of Broughton with the Revd Christine Threlfall
Kathreen SHAHBAZ
St Mellitus College North West to Brunswick, Christ Church with the Revd Canon Simon Gatenby
Pamela (Pam) SMITH
All Saints Centre for Mission & Ministry to Blackley, St Andrew, Blackley, St Paul and Blackley, St Peter with the Revd Eddie Roberts
Kendell Augustine TANNER-IHM
Cranmer Hall to Didsbury, St James and Emmanuel with the Revd Dr Nick Bundock
Rebecca (Bec) Catherine WILKINSON
Westcott House to Hulme, The Ascension with the Revd Azariah France-Williams
Jeremy (Jez) Paul WISDOM
St Mellitus College North West to Blackley, St Andrew, Blackley, St Paul and Blackley, St Peter with the Revd Eddie Roberts
Lee David Paul WOOD
St Mellitus College North West to Baguley, St John (Brooklands) with the Revd Richard Sherratt
To be ordained Priest by the Bishop of Bolton
At Manchester Cathedral on Saturday 3 July 2021 at 2:30pm
Admos Osmund CHIMHOWU
All Saints Centre for Mission & Ministry at Victoria Park, St Chrysostom with the Revd Canon Ian Gomersall
Deborah (Debbie) CLARKE
All Saints Centre for Mission & Ministry in the benefice of Astley, Tyldesley and Mosley Common with the Revd Martin Cox
Ian James FLEMING
All Saints Centre for Mission & Ministry in the benefice of Holcombe and Hawkshaw with the Revd Paul Sumsion
Nicola Jane GILLARD
All Saints Centre for Mission & Ministry in the benefice of Horwich and Rivington with the Revd Michael Behrend
Joanna (Jo) JARRETT
St Mellitus College North West in the benefice of Firswood and Gorse Hill with the Revd Ross Malkin
Layfetta Ann-Marie MASIH
St Mellitus College North West in the benefice of West Bolton with the Revd Canon Rodger Petch
Scott Gordon RICHARDSON
All Saints Centre for Mission & Ministry in the benefice of Newchurch with the Revd Rod Bevan
Adam James ROBERTSON
St Mellitus College North West at Manchester, The Good Shepherd and St Barnabas with the Revd Maria Onuigbo
Matthew (Matt) Christian SANDERSON
All Saints Centre for Mission & Ministry at Shaw, Holy Trinity and the benefice of High Crompton and Thornham with the Revd Katy Cunliffe
Amy Elizabeth SHERIDAN
St Mellitus College North West at Hey, St John the Baptist with the Revd Lyn Woodall
Farid YASINI
All Saints Centre for Mission & Ministry at St Aphrahat the Persian Sage Church in the benefice of Heatons with the Revd Omid Moludy
To be ordained Priest by the Bishop of Beverley
At Manchester Cathedral on Saturday 3 July 2021 at 6:00pm
Robert Craig ELOFF
St Mellitus College North West to Bedford, St Thomas and All Saints with the Revd Martin Cox
To be ordained Priest by the Bishop of Middleton
At Bamford, St Michael on Wednesday 29 September 2021 (Michaelmas) at 7:00pm
Hazel STODDART
Cranmer Hall at Norden, St Paul with Ashworth, St James and Bamford, St Michael with the Revd Jason Powell
Please pray for the retreat conductors
For the Deacons: Revd Canon Dr Janet Williams
For the Priests: Revd Stanley Njoka